ELTON JOHN NEWS ARCHIVE: July 2005
10th Grand Slam for Children
Saturday, July 30 2005
A tamed-down comedic lineup has been announced for Andre Agassi's 10th Grand Slam for Children at the MGM Grand on October 1, 2005.
Most notably absent from the lineup announced July 28, 2005 is Robin Williams, who has been a fixture but in recent years has gone to bluer material.

Also apparently missing for the second year in a row is Dennis Miller, whose political riffs two years ago triggered an angry outburst from Elton John during the closing act. It looks like that Elton will also not perform at the event this year.

The gala lineup: Celine Dion, Mary J. Blige, Duran Duran, Earth Wind & Fire and George Lopez.
Elton John chart success
Friday, July 29 2005
Elton adds another first-time accomplishment to his long list of chart achievements by making his initial appearance on Billboard's Hot Country Songs chart.
"Where We Both Say Goodbye," a duet with Catherine Britt, is opening at No. 49 this week.

Billboard's Fred Bronson reports that on one of Elton's tours of Australia, he heard a recording by a Catherine Britt and invited her to one of his shows in Sydney.



Backstage after the show, he asked if she was interested in signing with an American record label. Britt told Elton she didn't have any contacts in the United States and didn't know where to start. The next day, thanks to Elton, she had three label offers and within a week she was in Nashville, signing with RCA.

Britt made her debut on the Hot Country Songs list with "The Upside of Being Down". It peaked at No. 36 the week of November 13, 2004.

While this marks Elton's first appearance on the country chart as an artist, he has previously been listed on the survey as a songwriter. Coincidentally, Tim McGraw's version of "Tiny Dancer" peaked at No. 49, the week of February 15, 2003.

It seems that Elton's recent UK top 40 hit, "Turn the Lights Out When You Leave," is just waiting to make its debut on Billboard's Hot Country Songs chart.



War Child to auction exclusive Elton disc
Wednesday, July 27 2005
WAR CHILD is auctioning a rare and exclusive commemorative disc of the biggest selling single of all time.
The record was originally presented to mark 33 million sales of Elton John's 'Candle In The Wind '97', which was released following the death of Princess Diana in 1997.

The eBay auction is being held by warchildmusic.com - War Child's website that offers music downloads for purchase and memorabilia for auction.

All profits from the site go to War Child and the item will go live July 29, 2005. War Child works with children affected by conflict all over the world.
The Musical King
Wednesday, July 27 2005
With productions of "The Lion King" and "Aida" running around the world — and with "Billy Elliot," a smash hit in London — Elton John has become the most successful composer working in the theater, says Michael Riedel of the New York Post.
Not since Andrew Lloyd Webber colonized the globe with "Cats" and "The Phantom of the Opera" in the '80s has a theatrical songwriter reached as many audiences, or made as much money, as Elton has now.

In addition to the $1 million he's usually paid upfront, industry sources estimate his weekly royalties exceed $100,000. What makes his success all the more interesting is the way Elton has achieved it.

He is not, by any stretch of the imagination, a traditional Broadway composer. You won't find him at auditions or rehearsals or holed up in a hotel room out of town, banging out a new song for the second act. He didn't see "The Lion King" until its opening night in New York. He attended some performances of "Aida" during its out-of-town tryout in Atlanta, but that's only because he lives there. The first time he saw "Billy Elliot" was at a critics' preview.

Elton, it seems, can write a hit show without ever setting foot in the theater. He is Broadway's first virtual composer. "Elton understands the process of writing a musical," says Peter Schneider, the former head of Disney Theatrical, which produced "The Lion King" and "Aida." "But is he in the room like Rodgers and Hammerstein or Stephen Schwartz? No. He's not them."

A theater source who has worked on Elton's shows says bluntly: "He's never around." It is, in fact, financially impossible for Elton to be around a musical in development. He gives hundreds of concerts worldwide each year, earning tens of millions of dollars. If he were to stop performing for several months to be in the trenches with a new show, the loss of income would be substantial.

"He's working pretty much every day," says another person involved with his Broadway shows. "He makes a lot of money, but he spends a lot, too." Having him around would also cost producers a lot of money.

Elton travels with a phalanx of assistants and security guards, and because he doesn't like to sleep in hotel rooms, he usually insists, if he's in the United States, on being flown home to Atlanta in time for bed.

"You wouldn't have enough money in your production budget to pay for Elton to be around," a Disney source says. Because he might be performing anywhere in the world at any given moment, Elton writes his musicals by fax, e-mail, even cellphone.

During the three-month tryout of "Billy Elliot," director Stephen Daldry would sometimes hold up his cellphone in the wings so Elton could hear the dialogue that set up the song he was writing. Elton always writes from lyrics — they clue him into the song's emotional and narrative purpose — and he writes fast. It takes him about 20 minutes to knock out a tune.

"If he can't find the song quickly, you have to send him a new lyric," says Tom Schumacher, the current head of Disney Theatrical. Elton writes a melody, records the song on a CD and ships it off to the producers. He leaves structure of the song, its musical setting and its orchestrations to others. "He gives you his version, and then you adapt it for your purposes," says Schumacher. It doesn't matter to him where or how the song is used, but he is concerned about the sound.

The first time he saw "Aida" in New York, he stormed out of the theater because he didn't like the way one of his songs had been set. For the most part, though, he is a flexible, if absent, collaborator. The quality of the work varies.

Critics have complained that his theater songs for the Disney shows are generic pop-rock ballads and anthems. But many theater people think Elton has made a creative leap forward with "Billy Elliot," creating songs that are specific to the characters and dramatic moments.

Charles Spencer, the influential theater critic for the Daily Telegraph, wrote: "Elton John has written a wonderful score that ranges from folk to hard rock, from razzle-dazzle show tunes to soaring anthems of human solidarity and defiance." That notice was just about the best Elton has received yet for his work for the stage.

Broadway's first virtual composer, it seems, may also be turning into one of its best.
Bono ruins Elton's day
Monday, July 25 2005
Elton John has fallen out big time with fellow superstar Bono - after U2 snubbed the knight's charity record - reports The Sunday Mirror.
Just earlier in July 2005, the rock veterans were united for the Live 8 concert in front of more than 200,000 fans in Hyde Park and billions worldwide.

But the pair had a huge bust-up when Bono said no to letting Sir Elton use their hit "New Year's Day" on a charity CD he's putting together for his AIDS foundation. Already the likes of Bruce Springsteen and Morrissey have been lined up for the charity record.

A source says: "Elton is livid. He can't believe U2 refused to give permission to use New Year's Day. He thinks it's really bad form. Bono was one of the main protagonists behind Live 8 and the Make Poverty History campaign which Elton was happy to do because it was such a brilliant cause.

"So you can imagine he was amazed - and a little let down, to say the least - when U2 wouldn't allow the song to be used."
John William Baldry - 1941 to 2005
Friday, July 22 2005
Long John Baldry passed away at the Vancouver General Hospital, July 21, 2005 at 10:30 pm after fighting a severe chest infection for the passed four months.
Baldry, from which Reginald Kenneth Dwight once took the "John" to become Elton John, was surrounded by friends and loved ones and is now at peace.

John Baldry will be remembered by his music and the love he generously gave to all those who came in contact with him.

He gave Elton John his first break in music when he used Blusology as backing band.



Long John Baldry fighting for his life
Thursday, April 21 2005 at 17:10:12


Pam Ann boards Elton's private jet
Thursday, July 21 2005
Comedian Pam Ann is to fly to the South of France for a weekend - for a private party with Sir Elton John.
The glamorous air stewardess, the creation of Australian comic actress Caroline Reid, will be interrupting her Edinburgh run to take a private jet to Nice to entertain Elton and his partner, David Furnish.

But it won't be the first time the snooty stewardess has performed for the celebrity duo.

Pam was invited to crew a private jet for 100 celebrity guests for Furnish's birthday party in Venice in 2002 after being spotted on London's gay cabaret circuit.

And she proved such a hit with the A-listers that she kept being asked back. Reid said: "I'm chuffed to bits, because Elton certainly knows how to throw a party and lay on a private jet. I'm a bit of a regular on his private jets these days. Talk about art imitating life. But it's always an honour."
Elton vs. Billy
Tuesday, July 19 2005
Elton John is featured on AOL's Summer Music Battle of the Bands. He is up against Billy Joel in a battle of dueling piano men.
We want Elton fans to get to AOL Music and vote for their man! The page also features all kinds of info on Elton as well as audio and video.

The battle will be live until July 20, 2005. Place your vote today!.
Upset about "Electricity" chart position
Tuesday, July 19 2005
The UK sales reports mid of week 27 suggested that the chart-topper would be "Electricity" with Elton joining the elite list of acts to have replaced themselves at Number One.
"Electricity" did not reach the Number One. However, "Electricity" made headlines anyway as the Official Charts Company suggested looking at the chart rules because of the amazing 14,165 downloads, which "Electricity" generated.

According to several media reports credit for the high chart placing of "Electricity" must go to the huge amount of online sales it made.

The single is probably the biggest selling release so far to be available through Mercury records' own 7Digital site, which allows consumers to download the track directly from the website after purchasing a pin code via SMS.

The upset is caused by the fact that the pin is automatically issued to the competition entrant although this pin does not have to be used.

The Official Charts Company ruled On July 15, 2005 that the downloads figure based on issued pins would stand and count towards the position. However, they also promised to look at the chart rules because of the upset.

Also see Elton John Charts.
NYRP Hulaween 2005
Tuesday, July 19 2005
The New York Restauration Project (NYRP) will celebrate its 10th Anniversary as well as Bett Midler's 60th Birthday with the annual Hulaween gala on October 31, 2005.
The not-to-be-missed bash will honor environmentalists Sting and Trudie Styler with the Wing Beneath My Wings Leadership Award, and the featured performer will be none other than Sir Elton John!

There's also a hilarious live auction of once-in-a-lifetime opportunities. To purchase tickets or a table, please contact NYRP's special events office at 1 212 573-6933.
Cameron Crowe uses old Elton tune
Tuesday, July 19 2005
The song "My Father's Gun" is to feature in a forthcoming Cameron Crowe film Elizabethtown, due for release in October 2005.
The classic Elton John/Bernie Taupin tune is from the 1970 album, Tumbleweed Connection.

For more information about the movie, see http://www.elizabethtown.com.
Elton in the UK charts
Monday, July 18 2005
Elton John currently has two songs in the TOP 5 of the UK Single Charts.
While 2Pac's "Ghetto Gospel" featuring Elton's "Indian Sunset" dropped to number two, Elton's new single "Electricity" made an number 4 entry in it's first week of release.
Live 8 on AOL
Friday, July 15 2005
We would like remind everyone that the only place to still see all of the Live 8 performances in their entirety is at aolmusic.com.
The performances will be archived at the site through the end of August 2005, so make sure to check out Elton's performances.

You can also see photos and read the blob. Simply click on the banner to the right.
Elton John and band performed in Perugia on July 12, 2005
Wednesday, July 13 2005
Fan report by Giorgio Onorato Aquilani.
I just wanted to drop a couple of lines about yesterday's night gorgeous event in Perugia! The first and essential surprise was realizing that the show scheduled to be solo Elton turned into a fantastic band one!

It was my 30th show and as always Elton was in a great mood and shape! Shall we spend a couple of words on "Electricity"? Live it is a real blast! That is an Elton single! All us, fans, were stunned by the great gospel Choir which animated the stage giving us a super input to start dancing!

"Sad Songs" drove us mad, the new arrangment rocks! The setlist was simply perfect even if he cut away the much awaited "Crocodile Rock" and "Saturday Night's" ... but please, give me the chance to spread a couple of words on the atmosphere.

The only thing who made us drawning into a big disappointment was paying 135 euros to be 100 meters from the stage because the first 2 sectors were booked by Sponsors and VIP. Don't fans deserve the same treatment? Honestly, it was full of well dressed men who did not stop chatting about their lives during the entire show! And us, fans, were acting like monkeys in the middle of a human desert. I mean, there are our feelings on that stage, is anyone taking care about it?

Anyway, we just did not buy a place, we bought a show which has been worth that price till the last cent! We love you Elton! See you in the great Colosseo in Rome!

Following is the complete set list of the Perugia show on July 12, 2005:


Pinball Wizard

Bennie and the Jets

Daniel

Turn the Lights Out When You Leave

Take Me To The Pilot

Rocket Man

I Guess That's Why They Call It The Blues

Sacrifice

Electricity

Sorry Seems To Be The Hardest Word

Funeral For a Friend

Love Lies Bleeding

Are You Ready For Love

Philadelphia Freedom

All That I'm Allowed

They Call Her The Cat

Sad Songs (Say So Much)

Don't Let The Sun Go Down On Me

I'm Still Standing

The Bitch is Back

Candle In The Wind

Your Song
Elton John and band performed in Bielefeld on July 10, 2005
Monday, July 11 2005
Fan report by Holger Wagner.
For the last of his two German Summer shows Sir Elton John came to Bielefeld. The place was the football stadium of the First League Club Arminia Bielfeld, where nearly 20.000 people were waiting for the appearance of the british pop icon. The stage where Elton played on was the stage from the Live 8 concert in Berlin.

This show was seated and I was lucky to get tickets for the front row. Before the show starts I talked to the local security guys to ask after which song it was allowed to stand up and get to the stage. They said "before 'Crocodile Rock'" but that was an inacceptable answer because that was nearly at the end of the show. So I asked Elton´s Bodyguard and he said "Before 'Are You Ready For Love'". Hey...that was the answer I want :-) Thanks for that! I must say this new young Bodyguard of Elton was really nice. It was possible to talk to him and he looked not so angry than the other guys of Elton´s Bodyguard crew. He was really a nice guy.

At 7 pm the rock legend came on stage and began as usual with "Pinball Wizzard". His voice was in a normal shape....at the beginning a little harsh and scratchy but after a few songs it went better. Although Elton´s voice was better at the concert in Bonn.

Elton went through his normal set list. He even talked less than usual, so you can imagine it was nearly no word. It´s a pity that Elton talks so little to the audience and to his hardcore fans. I mean he is no man to walk around the stage and he stayed all the time at his piano and even because of that it would be great if he would talk a little bit more!

So....just after "Love Lies Bleeding" we run to the stage and many people followed. Elton really liked that but than a discussion between the local security people and Elton´s bodyguard began because the security was not so amused that the people all get up to the stage. They had reservations about the security of the people which all came now to the front and it was evident they were not informed that the fans get so early to the front. But of course Elton´s Bodyguard was successful and so we all danced at the front of the stage face to face to Elton.

Before his last song ("Your Song") Elton thanked the German audience and his fans in Germany for our loyalty all those years and he really likes to play in Germany and will come back in December 2005.

Thank you Elton! I can´t wait for December.

Following is the complete set list of the Bielefeld show on July 10, 2005:


Pinball Wizard

Bennie and the Jets

Daniel

Turn the Lights Out When You Leave

Take Me To The Pilot

Rocket Man

I Guess That's Why They Call It The Blues

Sacrifice

Candle In The Wind

Sorry Seems To Be The Hardest Word

Funeral For a Friend

Love Lies Bleeding

Are You Ready For Love

Philadelphia Freedom

All That I'm Allowed

They Call Her The Cat

Sad Songs (Say So Much)

Don't Let The Sun Go Down On Me

I'm Still Standing

The Bitch is Back

Saturday Night's Alright (For Fighting)

Crocodile Rock

Your Song
Elton John to write with Joss Stone
Monday, July 11 2005
Elton John is planning on recording a Christmas song with Joss Stone later in July 2005.
Elton told of his recording plans to Ian 'Molly' Meldrum backstage at the Live 8 concert on July 2, 2005 in London.

Elton said that as well as the new song with Joss, he is also recording with BB King, Patti LaBelle and will also perform a tribute to the late Luther Vandross.
Elton John and band performed in Aarhus on July 9, 2005
Sunday, July 10 2005
Fan reports by Daniel Gunnarsson and Martin Aamand.
It was with great excitement my parents and I took the car to Atletions Stadium, where Elton John with band should perform a two-and-a-half-hour long concert. Wonderful weather with a beautiful sunset. Elton and the band were in a real good shape; Elton's voice was stronger than ever.

I've seen Elton John live twice before, but this was the first time with band. Nice to see Davey Johnstone, Nigel Olsson, Bob Birch. They really work hard for these hours!

Elton decided a show with a mix of old and new. Among the new songs were a couple from his latest CD, Peachtree Road: "Turn The Lights Out When You Leave", "All That I'm Allowed" and "They Call Her The Cat". The latter is one of my favourites, and Elton & Co really got it swinging!

Among other songs were classic hits, like "Don't Let The Sun Go Down On Me", "Daniel", "Take Me To The Pilot", and of course, the final number, "Your Song".

Elton's voice was in good shape; it only gets better with the years. The only sad thing is that he barely talks to the audience between the songs. Otherwise it was a nice concert; I'm looking forward to see Elton & band in Gothenburg, December. -- Daniel Gunnarsson


---

Saturday night an Englishman came to town and graced our country. As soon as the sun rose in the East, it was clear to all Danes that this was going to be a special day, indeed. Not only did it not look like rain; Elton John was coming here to perform in Aarhus before a crowd of a crowd of 28,000 roaring people.

I was there two hours before the show started, at around 6 pm, and by that time the band had already arrived. Guy was doing some last-minute adjustment to his army of keyboards and synthesizers, while Nigel and John made a few brief appearances onstage – just to make sure that their gear was setup properly. As we all know, Mr Mahon sure does have a lot of things to hit when he's behind that wall of sound of his.

Meanwhile people were gathering in front of the stage -- to the sound of John Legend, Ray LaMontagne, and John Mayer whose latest albums filled the warm air -- and the abundance of seats was being filled. Many had come from abroad, I realised, as people were speaking English, German and Dutch. (Apologies to those nationalities that my keen ear might not have recognised.)

At 8 pm the band entered the stage from the right side and before long Elton joined them from the left. The mere sight of the Rocket Man himself sent a rush through the entire audience, and from the word go everyone was mesmerised by this rock'n'roll icon.

As with most of Elton's latest performances, 'Pinball Wizard' was the first song and then followed the usual set list – more or less. The only exception was that Elton decided not to play 'Electricity' and performed 'Candle in the Wind' solo instead. Personally, I didn't mind the exclusion of 'Electricity' – both because it's not a well-known song yet and because I simply love 'Candle in the Wind'. It was, however, obvious by the look of Elton's face that they would have played 'Electricity' had he not changed his mind. He shook his head several times at Nigel, you could almost hear him saying, 'No 'Electricity,' not tonight'. And so the band left the stage for a short while, leaving Elton to handle the crowd on his own. But, of course, that was no problem at all.

When the time came for 'Sacrifice,' Elton spoke the words that I had been waiting to hear: he told us that the last time he and the band were here was back in 1988 when they wrote and recorded 'Sleeping with the Past' in Randers, a nearby city. As far as I know, 'Sacrifice' was actually written in the studio in Randers, and Elton didn't think it was going to be a hit. Well, I guess he was wrong.

With 'Are You Ready for Love' came the Voice of Atlanta who brought a fantastic gospel feel to the song. In addition, Elton sang the song in a slightly different version than the 'old' one. I'm not sure what he did, but it sure sounded great!

'Sad Songs (Say So Much)' has been completely re-arranged for the live shows, and if it sounded good before (and it did), then it's sounding truly astonishing now. Nigel's drums were amazing on this song, also.

The highlight of the night was probably 'I'm Still Standing' – the best-known Elton song in Denmark, by far. The crowd was on their feet from the first few notes, and singing-along to the words, loudly. It was an incredible experience to see people pounding their hands into the air with the rhythm while Elton was reassuring everyone that he is, indeed, still standing. I find it hard to believe that anyone thought twice about this proclamation.

Throughout the evening, Davey threw several plectrums out into the crowd who then frantically searched the grounds below to find the valuable piece of music. During 'Crocodile Rock' – the first encore -- John Mahon also found his way to the front of the stage and offered the eager audience a drumstick.

After a few minutes of vigorous cheering, Elton entered stage again to play the last song, 'Your Song'. He was dressed in a black Adidas tracksuit and looked perfectly relaxed and satisfied with the evening. He thanked the Danish people for always being very supportive of him, and told us how much he enjoyed being here. The evening came to an end with an extraordinarily energy-filled rendition of this incredibly famous song.

I secretly hoped that he would never stop playing and cancel the rest of his tour to spend his life onstage in Aarhus. Alas, four minutes after the final note sounded through the loudspeakers in Atletion in Aarhus, Elton was in an Audi A6 on his way to the airport where his private jet was waiting. Yet another finished gig in the calendar of the world's biggest superstar. I enjoyed every last second. -- Martin Aamand

Following is the complete set list of the Aarhus show on July 9, 2005:

Pinball Wizard

Bennie and the Jets

Daniel

Turn the Lights Out When You Leave

Take Me To The Pilot

Rocket Man

I Guess That's Why They Call It The Blues

Sacrifice

Candle In The Wind

Sorry Seems To Be The Hardest Word

Funeral For a Friend

Love Lies Bleeding

Are You Ready For Love

Philadelphia Freedom

All That I'm Allowed

They Call Her The Cat

Sad Songs (Say So Much)

Don't Let The Sun Go Down On Me

I'm Still Standing

The Bitch is Back

Saturday Night's Alright (For Fighting)

Crocodile Rock

Your Song
Elton John and band performed in Bonn on July 7, 2005
Friday, July 8 2005
Fan report by Holger Wagner.
Exactly at 7 pm Sir Elton John entered the stage at the Museumsmeile in Bonn for a remarkable and unforgettable concert evening. This is a small place sourrounded by museums and covered with a small roof. It is a really intimate atmosphere there!

This place was not seated, so it is a little exception on this current tour that people stand directly from the beginning of the show. Directly from the first notes Elton´s voice was in a fantastic form. Clear, bright and strong he began with "Pinball Wizard".

During the first song it was obvious, that Elton John was in a fantastic mood and that he enjoys to be on stage. At the beginning and during the first songs he was not so talkative. But instead of that his piano playing was from outer space!

During the second song it seemed that he would never stop to hit the piano. During the next few songs Elton got better and better and better. His voice was so brilliant and the intensity of his performance makes me shiver.

Elton plays every single song with such full love and intensity and he emphasized every single word so concentrated. This was an excellent performance of Sir Elton John.

The mood increased after the Voice of Atlanta Choir entered the stage just before "Are You Ready For Love". This rediscovered song sounded so soulful with the choir and it is great that Elton plays it live again on this tour.

Before Elton started with "Don´t Let The Sun Go Down On Me" he dedicated this song to the victims of the terrible terror attack in London and he said they will never be forgotten.

I met a few other people from HERCULES and we all were the same opion: This concert was one of the best shows in the last 10 years we have seen from Elton John because of his fantastic voice during the whole show, his intensive performance of every single song and note and his outstanding piano playing. Thank you Elton for this wonderful show!

Following is the complete set list of the Bonn show on July 7, 2005:


Pinball Wizard

Bennie and the Jets

Daniel

Turn the Lights Out When You Leave

Take Me To The Pilot

Rocket Man

I Guess That's Why They Call It The Blues

Sacrifice

Electricity

Sorry Seems To Be The Hardest Word

Funeral For a Friend

Love Lies Bleeding

Are You Ready For Love

Philadelphia Freedom

All That I'm Allowed

They Call Her The Cat

Sad Songs (Say So Much)

Don't Let The Sun Go Down On Me

I'm Still Standing

The Bitch is Back

Saturday Night's Alright (For Fighting)

Crocodile Rock

Your Song
'Camp' Billy Elliot musical hits wrong note in America
Thursday, July 7 2005
It has been hailed as the best musical ever, and had British critics raving over the "exhilarating" and "terrific" performances. But Billy Elliot the Musical has failed to make such a positive impact on the other side of the Atlantic.
The New Yorker magazine has launched a scathing attack on the Elton John show, describing it as "mawkish", "repetitive" and "camp".

The verdict of John Lahr, the senior theatre critic for New York's most influential magazine, could damage the musical's chances of a transfer to Broadway.

In a two-page denunciation of the show, Lahr, who has written 17 books on theatre, dismisses Billy Elliot as being riddled with "narrative vulgarities", "thematic bankruptcy" and general "sloppiness".

His verdict clashes not only with critics' praise for the £5m production based on the British film, but also the iconic status the show has gained among gay theatre-goers, who love the chorus line of coal miners dressed in tutus. Lahr, on the other hand, says that the cross-dressing number that Billy performs with a young, gay friend is no more than "homophobic fun".

He writes that Stephen Daldry, the director, Lee Hall, the writer, and Peter Darling, the choreographer, are "novices", but instead of the expected recipe for disaster, he finds the performance a "recipe for a muddle masquerading as a major event".

Lahr, the son of the actor Bert Lahr, is bemused by ads for the musical carrying a quote from Charles Spencer of The Daily Telegraph describing Billy Elliot as: "The greatest British musical I have ever seen." He wonders aloud what on earth constitutes a great British musical. "Salad Days? The Boy Friend? Cats?" he asks. "The British love musicals," he writes. "They just don't do them very well. The jazz of American optimism ... is somehow alien to the ironic British spirit."

Whereas the American musical is the expression of a land of plenty, England is a land of scarcity - "the Land of No". The "narrative vulgarities" have been overlooked, he says, in favour of capturing the audience's imagination.

"This, it seems to me, explains how a show with a mawkish, melodramatic book, and without a single memorable melody or lyric, could have worked its way so deeply into the public imagination."

Daldry's "narrative desperation" forces him to borrow from a "tattered grab bag of avant-garde tricks", Lahr writes, in order to cover up the "lacklustre book and music". While he does not take offence to the show being branded a commercial hit, the critic wants his readers to know that it should not be perceived as excellent.

"When the most delightful part of a show is the curtain call - a 10-minute knees-up, with the entire cast, including the miners, now thankfully liberated from their earnestness, dressed in tutus - you know you're in trouble," he concludes.

Lahr's downcast view was not shared by all Americans. Ray Bennett, of The Hollywood Reporter, described it as "the most irresistible show in ages".

Elton John's public relations representative, Gary Farrow, shrugged off criticism from The New Yorker: "Mr Lahr is entitled to his opinion, but he is the only one so we do not care. It is not representative of the reviews we have had which have described it as the greatest musical ever."



Elton and Donatelly renew friendship
Thursday, July 7 2005
Elton is thrilled his old friend Donatella Versace is finally sober, because they can finally renew their friendship after years of turmoil.
Elton was close friends with the blonde designer and her late brother Gianni, until the fashion legend was murdered outside his Miami, Florida home in July 1997.

After Gianni's death, devastated Donatella's addiction to cocaine spiralled, leading her to avoid Elton, who had been sober since 1991.

Donatella recalls, "Cocaine used to be a lot of fun - but it all ended up in drama and depression. I was afraid to see Elton because he knew the reality."

Elton admits, "We drifted apart. She didn't want to see me and I didn't want to see her. When Gianni died and her drug use increased, I felt a huge part of my life had disappeared."

Finally in June 2004, Elton joined Donatella's friends and family staged an 'intervention' and she agreed to kick her drug addiction at an Arizona rehabilitation clinic.

Hailing Donatella's first year of sobriety, Elton says, "All she talks about, and all I talk about when I got sober, is how great it is to be sober. I'm keeping an eye on her. I think she's really got it. I'm so happy to have her back in my life."



Elton's Versace charity sale
Saturday, April 23 2005 at 13:01:31


"Make prejudice history"
Tuesday, July 5 2005
The worldwide repression of homosexuals is a disgrace that our leaders must address urgently.
Comment by Elton John - from The Observer - July 3, 2005.

From the stage of the Live8 concert in Hyde Park yesterday, I could feel the crowd's great anticipation that the G8 leaders really will act to make poverty history this week. We have never before had such an intense focus on the suffering of the world's poorest people, and the feeling that this is a unique historical opportunity to relieve this suffering is palpable.
The world's leaders at Gleneagles are aware that they will be made to answer for it if they do not make big commitments to end poverty. I hope that what comes out of the G8 meeting also sends an unambiguous message to all governments that respect for human rights is as essential as poverty reduction to ensuring people all over the world have a better life.

As the Live8 players took to the stage, central London was also host to a huge Gay Pride march, our annual celebration of lesbian, gay and bisexual people's 'out and proud' lives. There are many parts of the world where such a celebration could not take place, because basic human rights are not respected and people face threats, attacks, prosecution and even possible execution just because of their sexuality.

Amnesty International has established that around 80 countries still have laws that criminalise sex between same-sex consenting adults. In some states, these laws are vigorously enforced.

In Saudi Arabia, for example, four men were recently sentenced to 2,000 lashes and two years' imprisonment after attending a 'gay wedding'. A further 100 men who attended the event were imprisoned and face 200 lashes each. The human body cannot usually withstand being flogged more than 50 times, so the punishment will be administered up to 50 lashes at a time at intervals of two weeks. These punishments could take place any day now.

Article 76 of the Jamaican Offences Against the Person Act punishes the 'abominable crime of buggery' with up to 10 years' imprisonment with hard labour. Homophobic violence, including beatings by whole crowds, rape, torture and even murder, is rife in Jamaica. Once a person's homosexuality becomes known to family or community, they are at serious risk.

Several Jamaican men have been granted asylum in the UK because the authorities recognise the risks they face if sent back. Those who campaign for gay rights often become a special target for attack. Brian Williamson co-founded Jamaica's first gay rights organisation, the Jamaica Forum for Lesbians, All-sexuals and Gays, in 1998.

A brave campaigner, he determinedly took to the airwaves, appearing on television and radio phone-ins to champion gay rights and calling for tolerance. He was brutally murdered for this in his own home just a year ago.

Alongside these extreme human-rights violations, gay people in dozens of countries are routinely denied their basic rights: to freedom of association, freedom of speech, the right to be free from persecution, the right to education.

In Namibia, even in schools, a place where tolerance and understanding should be fostered, children routinely face discrimination and abuse from students and teachers because of their sexuality. For many, this environment is so unbearable that they are forced to leave school and forgo their right to education. It is hardly surprising that this atmosphere of hatred is fostered in schools when former President Nujoma makes such statements as: 'Homosexuality deserves severe contempt and disdain from the Namibian people and should be uprooted totally as a practice.' He is not alone in his beliefs. In Uganda, President Museveni is notoriously outspoken with his anti-gay campaigns: 'I have told the Criminal Investigations Department to look out for homosexuals, lock them up and charge them.'

Many politicians, from Africa to Asia and Latin America, proclaim that homosexuality is 'not part of our culture', an imported 'European perversion' that needs to be eradicated. 'Those who want to [continue with homosexual activities] must pack up and go back to Europe,' was how President Nujoma put it.

In Colombia, paramilitaries and armed groups have made it their business to target gay people for 'social cleansing' as part of their policing of communities.

In addition to these daily violations, such discrimination undermines the excellent work being undertaken to combat the HIV/Aids epidemic. In Uganda, for example, a radio station was recently fined US$1,000 for broadcasting a talk show that featured sexual-rights activists discussing the need for HIV/Aids services for men who have sex with men.

This is just a snapshot of the discrimination that gay and lesbian people face across the globe today. We need to shine a light on these human-rights violations. Amnesty and its members are doing this work, and it is one of the reasons I became a patron of the organisation.

We hear often that the UK government is committed to the promotion and protection of human rights around the world, and that it makes respect for human rights a condition of many of its foreign relations.

I want our government, which has presided over many positive changes for gay people here in the UK to ensure that ending violations of gay people's fundamental human rights around the world becomes an explicit issue in its diplomatic relations with other countries.

I strongly believe that when thousands of us refuse to look away and stay silent, we make a difference to what politicians do and say. The sheer force of our numbers will ultimately help those who are suffering from extreme poverty and extreme prejudice all over the world.
Elton performed free concert in Philadelphia
Tuesday, July 5 2005
Elton John performed during the Philadelphia Freedom Concert outside the Philadelphia Museum of Art in Philadelphia on July 4, 2005.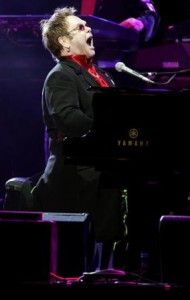 Elton headlined the free concert to celebrate America's Independence and raise awareness of HIV/AIDS. He was joined by rocker Bryan Adams and Patti Labelle.

Fan report by Marian Joy Friedman

As a volunteer for the event, we had all access badges for the ball and then tickets for the concert. It was huge. The ball was a lot of fun. Lots of food and drink and an assortment of entertainers including the Philadelphia boys choir who sang "Circle of Life".

Elton and Billie Jean King came on stage at the ball to thank everyone and then it was my job to escort the boys choir back towards the green room where I saw Elton maybe a yard away. Why I didn't shake his hand, I will never know but I didn't want to impose.

It was quickly after this that he was surrounded and forced into photos with various people. It was a mob scene and as Elton's people guided Elton towards the green room, the mob followed him. It brought to mine Justin Timberlake in "This Train Don't Stop Here Anymore". It was overwhelming for me. I can only imagine what it was like for Elton and his people.

Then onto the concert. The entire city of Philadelphia seemed to come out for the show. Masses and masses of people. We were fortunate to have tickets for the show so our seats were guaranteed for us - 18th row. Not bad.

Before the concert began, there was a parade and it was broadcast live on Philadelphia channel 6. Because of the parade, the concert began an hour late. It kicked off with Peter Nero and the Philly Pops with the National Anthem and God Bless America. Then there was a video announcement from newscaster Walter Cronkite followed by the Hosts Bruce (something) and Wayne Brady. They introduced Bryan Adams who performed 4 songs.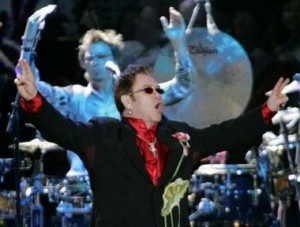 Wayne Brady introduced Rufus Wainwright who performed twpo songs then Peter Nero and the Philly Pops did two medleys. The hosts came out once again to introduce Patti Labelle - she did two songs with some improvision. Very good. Her gown was gorgous. She was looking mightly fine for a 61 year old!

The hosts came out again and then Billie Jean took the stage to thank everyone for coming out for the cause. Then there was an "Enduring Vision" video announcement from the Elton John Aids Foundation in which Elton said amongst other things, "We must give people hope". The hosts came on again and introduced Elton and his band. Elton thanked the city of Philadelphia for being the "first city in the world to do anything like this". Later he remarked "I want to make AIDS history" and vanish the desease all together.

After the show, there was a huge fireworks display and I mean huge and then the crowds just walked to where ever they had to go. Roads were blocked off for pedestrians only. Truth be told, it was a little chaotic but overall, a great day and evening the the city of Philadelphia and another great show. Elton never fails us.

Following is the set list of Elton's free concert in Philadelphia on July 4, 2005:


The Bitch Is Back

Bennie And The Jets

Rocket Man

I Guess That's Why They Call It The Blues

Tiny Dancer

Philadelphia Freedom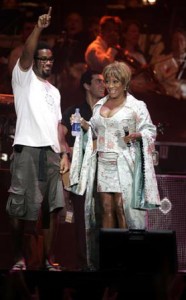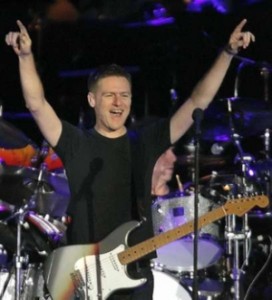 Elton receives Philadelphia Humanitarian Award
Tuesday, July 5 2005
While some of the city's earlier Fourth of July weekend celebrations kicked off with the bang of fireworks or the beat of a rock band, a tribute to Elton John and his humanitarian work began with the simple tolling of a bell.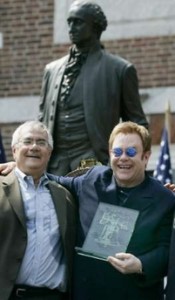 Thirteen times the bell atop Independence Hall rang on July 4, 2005, signaling the start of a city ceremony honoring Elton's efforts to help people with AIDS or HIV.

In recognition of his work, city officials awarded Elton the city's first-ever Philadelphia City of Brotherly Love Humanitarian Award.

Fresh from performing Live 8 in London, and hours before he was to perform at the same spot as Philadelphia's Live 8 mega-concert, Elton received the award on a small stage in front of Independence Hall, birthplace of the Declaration of Independence.

From behind dark blue sunglasses, Elton smiled approvingly as a group of youngsters from the First Philadelphia Charter School for Literacy sang a lyrical rendition of his song, "Philadelphia Freedom."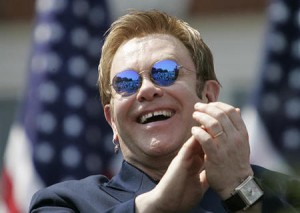 Calling him the city's "adopted son," Mayor John F. Street described Elton as "leading the charge ... to eradicate a disease that is devastating the world." In a footnote to the ceremony, Street also thanked the performer for giving the city its signature anthem.

Elton accepted a silver plaque from Street, and then told hundreds of spectators attending the public ceremony—as if they didn't already know—that he had recently performed at another humanitarian concert, the Live 8 flagship concert in London.

"Two days ago, I appeared in a concert in London called, "Make Poverty History," Elton said, and added, "My ambition is to make AIDS history."
Queen most successful act in UK chart history
Tuesday, July 5 2005
Rock legends QUEEN have beaten Elvis Presley and The Beatles to be named the most successful music act in UK album chart history.
The Guinness World Records have released shocking figures, which prove Queen has overtaken The Beatles for the first time, by spending a staggering 1,322 weeks in the British charts compared with the Fab Four's 1,293 weeks.

Queen frontman Freddie Mercury died from an AIDS-related illness in 1991, but the band are still touring and their popularity has been boosted by the success of London musical "We Will Rock You".

The Book of British Hit Singles and Albums compiled the list, which places The Beatles in second place followed by Presley and Irish rockers U2, while Elton John and Michael Jackson languish at the bottom of the chart at numbers nine and ten respectively.

The Book of British Hit Singles and Albums Editor DAVID ROBERTS says, "Given that Queen's chart career has been much shorter than those of The Beatles and Elvis, this is an incredible achievement. They've long been written about with reverence in the pages of our book, and this just serves to cement their legendary status."

The Top ten album acts are:

1. QUEEN (1,322 weeks)
2. THE BEATLES (1,293 weeks)
3. ELVIS PRESLEY (1,280 weeks)
4. U2 (1,150 weeks)
5. DIRE STRAITS (1,136 weeks)
6. SIMON AND GARFUNKEL (1,114 weeks)
7. MADONNA (1,032 weeks)
8. DAVID BOWIE (1,005 weeks)
9. SIR ELTON JOHN (989 weeks)
10. MICHAEL JACKSON (966 weeks)
Doherty blames Moss for disastrous Elton duet
Tuesday, July 5 2005
Pete Doherty has lashed out at claims he was high on drugs during his disastrous duet with Elton at London's Live 8 gig on July 2, 2005 - insisting he had just argued with fiancee Kate Moss and was suffering crippling nerves.
The BABYSHAMBLES rocker could barely stand up when he joined Elton onstage to sing T-Rex hit "Children of the Revolution".

But he has slammed accusations his poor performance was caused by drugs, insisting he was "agitated" because he had fallen out with Moss backstage and was scared about performing in front of such a large crowd.

He explains, "I wasn't all over the place on drugs. I was high on adrenaline and nerves. I wish I had smiled a bit more, apart from that, I thought I was wicked.

"I may have been slightly agitated, but I wasn't on drugs. Me and Kate had a bit of a fall-out beforehand. But Kate saw the gig live on TV and thought I was good. We saw a repeat that night and had a really good time."



Elton's Live 8 performance
Saturday, July 2 2005 at 14:20:04

Elton promises to help Pete Doherty kick drugs
Monday, June 20 2005 at 11:19:13


George Michael and Elton end long-running feud
Tuesday, July 5 2005
George Michael has finally ended his bitter feud with Elton and as a peace offering, he's given him permission to use their 1991 duet "Don't Let The Sun Go Down On Me" for an album of duets Elton plans to release later this year.

The superstars fell out in November 2004 after Elton accused George Michael of being an unhappy drug-user and branded his album PATIENCE "disappointing".

The FAITH star famously hit back, by writing an open letter to Britain's Heat magazine, urging fans to ignore Elton's comments, arguing that Elton has hardly spoken to him in the last decade and knows very little about his private life.

Elton tried to settle their differences in December 2004 but complained George Michael refused to take his phone calls on five occasions.

But George Michael recently invited his former pal to his north London home to discuss their rift over a dinner, cooked by celebrity chef Gordon Ramsay.

George Michael's close friend says, "They're both delighted that the feud is over. George invited Elton to have dinner secretly at his house a couple of weeks ago and it was quite an occasion.

"Gordon did most of the cooking and George and Elton spent most of the time creased up laughing as they reminded each other of hilarious stories from the past."



Lulu blames Elton
Monday, July 4 2005
Sixties pop icon Lulu has accused Elton of destroying her love-life by inviting her on his gruelling UK tour in 2004 - but now she's desperate to make amends, contactmusic.com reports.
The star, 56, famously married and divorced late Bee Gee, Maurice Gibb and celebrity hairdresser John Frieda, but her experiences haven't put her off love.

She says, "There's no nice new man, but I'm definitely open to any suggestions! As a single person, you become a bit selfish, Mind you, I've always liked my own way.

"I'm very choosy as far as having a partner is concerned, and I'm not desperate to have a relationship unless it's really right. After all, I was married to two amazing guys."
Elton's Live 8 performance
Saturday, July 2 2005
Due to his Dublin gig that same day, Elton performed relatively early during Live 8 in London on July 2, 2005.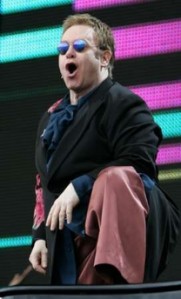 He went on stage after Paul McCartney, U2 and Coldplay.

The set list for Elton was as follows:


The Bitch Is Back

Saturday Night's Alright For Fighting

Children Of The Revolution (duet with Pete Doherty)
Contrary to earlier reports, the last song was not introduced on TV by Russian cosmonaut Sergei Krikalev live from space.

Sir Paul McCartney and U2 have kicked-off Live 8 at Hyde Park, London, with the song "Sgt Pepper's Lonely Hearts Club Band".

The words "It was 20 years ago today" referred back to Live Aid - the first concert staged by Sir Bob Geldof and friends to highlight the plight of Africa. It is the first time Sir Paul has played the song outside a recording studio.

Live 8 is being billed as the biggest music event in history. Also performing at Hyde Park are Madonna, Coldplay, Joss Stone, Keane, REM, Scissor Sisters, Sting, Travis and Robbie Williams. Pink Floyd are reuniting for the first time in 24 years.




A Rocket Man to announce the Rocket Man
Friday, July 1 2005

LIVE8 is planning to go out of this world tomorrow - with a Russian cosmonaut introducing Sir Elton John on stage.

The London concert will feature a satellite link-up to the International Space Station 250 miles above the Earth. Russian cosmonaut Sergei Krikalev will be beamed around the world talking to Hyde Park host Jonathan Ross.

Organisers plan to finish the historic link up with Krikalev hailing Sir Elton with the words: 'And now, my fellow rocket man The cosmonaut's appearance will be the highlight of the London gig and a personal triumph for Bob Geldof.

Geldof tried to link up with the Space Shuttle during Live Aid but failed due to technical problems.

An insider said: 'This is a massive coup for Live8. Bob was gutted when the shuttle link didn't work 20 years ago and was determined to get it right this time. Going live from the gig to space will be without doubt one of the highlights of Live8 and a spectacular moment in music history.'




Elton will play Live8 twice
Tuesday, June 28 2005 at 10:35:30

Live8 on the web
Tuesday, June 28 2005 at 05:56:13

(Just) 15 minutes of fame
Monday, June 27 2005 at 11:00:54



Elton John and band performed in Guadalajara on June 30, 2005
Friday, July 1 2005

Fan report by F. Barral.

It's always a surprise each new Elton Concert because at least here in Spain there's not too much publicity on each gig, but he always plays in front of a full house, and in this case in the Football Stadium at Guadalajara was not the exception: no publicity, but full of people of all ages from kids to seniors enjoing this excellent artist, a great rock performer after almost 40 years.

I don't know how Elton does it, but each new concert is better than the previous, and in this case in Guadalajara he looked like enjoing himself singing and performing in good connection with crowd and band.

One of the highlights of the night was the Voice of Atlanta Choir, they were brilliant not only with the chorus, but with the choreography who tuned perfectly with the crowd.

This was another great night, at the end Elton thanked to the loyal Spanish fans, while we were singing "Elton, Elton".

I'm quite sure that we will see much more of Elton, he has a lot of energy, a lot of rythm, a lot of electricity.

Following is the complete set list of the Guadalajara show on June 30, 2005:


Pinball Wizard

Bennie and the Jets

Daniel

Turn the Lights Out When You Leave

Take Me To The Pilot

Rocket Man

I Guess That's Why They Call It The Blues

Sacrifice

Candle In The Wind

Sorry Seems To Be The Hardest Word

Funeral For a Friend

Love Lies Bleeding

Are You Ready For Love

Philadelphia Freedom

All That I'm Allowed

They Call Her The Cat

Sad Songs (Say So Much)

Don't Let The Sun Go Down On Me

I'm Still Standing

The Bitch is Back

Saturday Night's Alright (For Fighting)

Crocodile Rock

Your Song